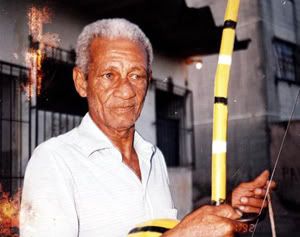 This is an excerpt from Mestre Canjiquinha's "
The Joy of Capoeira
'. It's on page 35-7. You can download it
here
.
I really like the tongue-in-cheek-iness of this part:
When it's time to play around, I play around
When it's time to play serious, I'm serious
:)
Capoeira Connection has several other Adobe .pdf documents. The link has been added to the er, 'Links' section (Roda Zone).
Cheers,
-EW
...
Canjiquinha has a laugh that I don't know what it is
Because everything that I do
I do laughing
They say around here: Canjiquinha only knows how to play around
This doesn't offend me
When it's time to play around, I play around
When it's time to play serious, I'm serious
...
We have to make joy
I am a factory of joy